Kulbushan Sudhir Jadhav aka Hussain Mubarak Patel born on 16th of April, 1970 was captured in Balochistan near the Chaman border with the initiation of a counter-intelligence raid of competent Pakistani authorities in 2016 leading to the arrest of Kulbushan Jadhav, Jadhav was accused of being a spy for the Research & Analysis Wing (RAW) of India by Pakistani authorities and condemned to a death sentence on 18th of May, 2017.
While Indian Media's false claim on the refusal of case review, Pakistan offers second consular access to India for Kulbhushan Jadhav.
Pakistan provided second consular access to Commander Kulbhushan Jadhav at the Indian request today. The first consular access under the Vienna Convention on Consular Relations (VCCR) 1963 was earlier provided by Pakistan on 2 September 2019. The mother and wife of Commander Jadhav were also allowed to meet him on 25 December 2017.

Two consular officers of the Indian High Commission in Islamabad were provided unimpeded and uninterrupted consular access to Commander Jadhav at 1500 hours.

Commander Jadhav is in Pakistan's custody following his arrest from Balochistan in a counter-intelligence operation on 3 March 2016. During the investigation, Commander Jadhav confessed to his involvement in terrorist activities inside Pakistan that resulted in the loss of many precious human lives. He also made important revelations about RAW's role in sponsoring state terrorism in Pakistan.

Pakistan remains committed to fully implementing the International Court of Justice (ICJ)'s judgment of 17 July 2019. It is hoped that India will cooperate with the Pakistan court in giving full effect to the said judgment.

Islamabad

16 July 2020

Source: MOFA Pakistan
The International Court stayed the execution order and appealed the PK government to investigate further, Kulbushan was identified as a commander in the Indian Naval Forces but these allegations have been solely denied by the Indian authorities and have said that Jadhav was kidnapped from Iran by Jaish-e-Adl an organization based in Iran and then delivered to the Pakistani armed forces. Jadhav has confessed to having supervised numerous attempts on Karachi and solely in Balochistan with regards to bombing and armed threats under the alias of Hussain Mubarak Patel used by Jadhav to conceal his identity as a spy in Pakistan.
The Indian authorities have accepted Jadhav as a former naval officer who was abducted in Iran and has not been yet able to produce an excuse for his stay in Iran.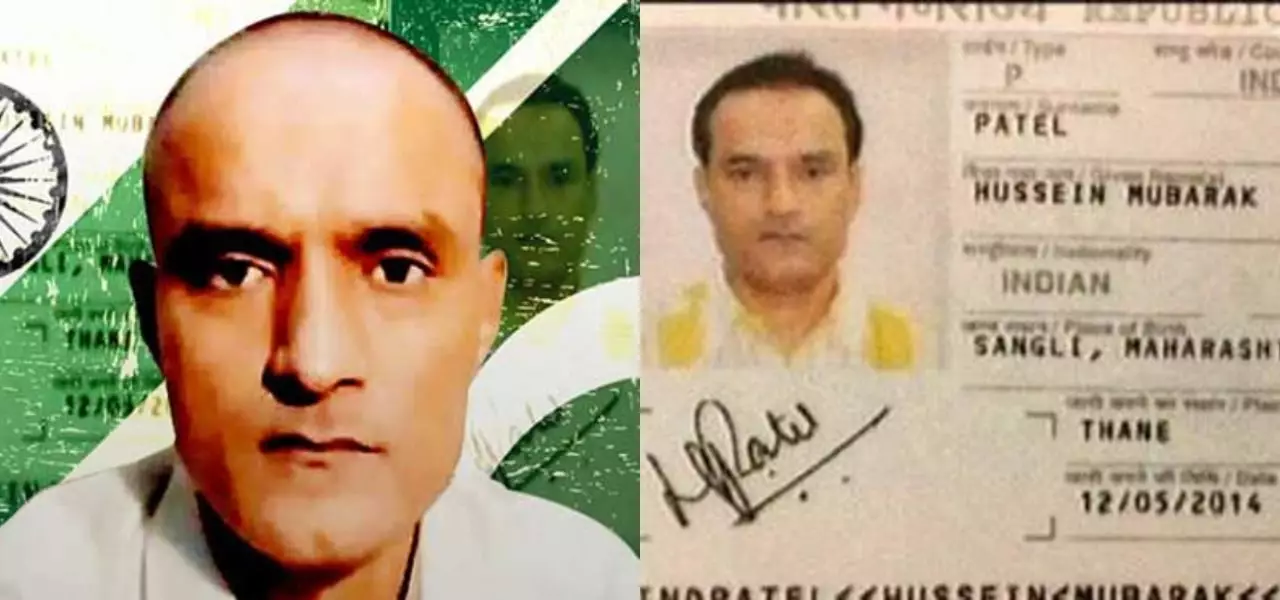 Early Life and Migration to Pakistan
Kulbushan Sudhir Jadhav alias Hussain Mubarak Patel was born on 16th of April 1970 in Sangli Maharashtra to a retired police officer. Jadhav in his confession had stated that he had inaugurated a small business in Chabahar, Iran under a forged visa on a fake passport so that he can facilitate his visits of Karachi and Balochistan without an overwatch and hence began his terrorism spree of facilitating and sponsoring activities that cause disruption within the boundaries of Karachi and fueling the BLA in Balochistan to disrupt the Gwadar projects and CPEC and cause overall dis-stability.
Activities and Attempts On Karachi and Balochistan
Kulbushan Jadhav was working as a scrap dealer in Gadani hence the frequent visits to the Balochistan and back to Karachi, Jadhav was very active in fueling the separatist's movements in Balochistan like the BLA (Baloch Liberation Army), sources have suggested that Jadhav's master plan was to disrupt Gwadar and Karachi ports by planning a full-scale assault on them and affecting the overall trade and relations of CPEC (China Pakistan economic corridor). Jadhav was suspected of being in relation to Haji Baloch who was accused of being in relation to Al-Qaeda sponsoring terrorism in Karachi and Sindh which also include the Safoora Bus incident (The massacre of 45 Ismailis).
He had also confessed to sourcing boats to sponsor the attacks on the ports of Karachi and Gwadar to establish de-stability within the region.
According to Pakistan authorities, Jadhav was responsible for providing military-grade training to militants to facilitate the port attacks and that Jadhav was responsible for the disruption of Law and enforcement in Karachi, according to Indian authorities they claim that these accusations are nothing short of a hoax and misalignment of data although proofs indicate otherwise.
Iranian Intervention
Iranian authorities had ordered an investigation into the matter of whether Jadhav had crossed into Pakistan using Iran's boundaries or was he picked up by Jaish-E-Adl a terrorist organization operating within Iran and then smuggled into Pakistan, the Iranian embassy in India had released a statement that they were probing into the matter and whether if the latter was true. Hassan Rouhani on his visit to Islamabad denied the report that Jadhav had crossed into Pakistan illegally using Iran's border and labeling it as a complete and biased rumor.
The investigations bore no significant results.
Confession
After the capture and abduction of Kulbushan Sudhir Jadhav an investigation was prompted on behalf of Pakistan and a video confession was produced by the Pakistani authorities which include the admission of Jadhav for the fact that he facilitated and sponsored terrorist activities in Karachi and Balochistan and the existence of his business in Chabahar.
"My name is Commander Kulbhushan Yadav and I am the serving officer of Indian Navy. I am from the cadre of engineering department of Indian Navy and my cover name was Hussein Mubarik Patel, which I had taken for doing some intelligence gathering for Indian agencies.

"I joined the National Defence Academy in 1987 and subsequently joined Indian Navy in Jan 1991 and subsequently served for the Indian Navy till around December 2001 when the Parliament attack occurred and that is when I started contributing my services towards gathering of information and intelligence within India.

"I live in the city of Mumbai in India. I am still the serving officer in the Indian Navy and will be due for retirement by 2022 as a commissioned officer in Indian Navy after having completed 14 years of service by 2002.

"I commenced intelligence operation in 2003 and established a small business in Chabahar in Iran as I was able to achieve undetected existence and visits to Karachi in 2003 and 2004 and having done some basic assignments within India for RAW.

"I was picked up by RAW in 2013 end. Ever since I have been directing various activities in Balochistan and Karachi at the behest of RAW and deteriorating law and order situation in Karachi, I was basically the man for Mr Ani Kumar Gupta who is the joint secretary of RAW and his contacts in Pakistan especially in Balochistan Student Organisation.

"My purpose was to hold meetings with Baloch insurgents and carry out activities with their collaboration.

"These activities have been of criminal nature, leading to killing of or maiming of Pakistani citizens.

"I realise during this process that RAW is involved in some activities related to the Baloch liberation movement within Pakistan and the region around it.

"There are finances which are fed into the Baloch movement through various contacts or various ways and means into the Baloch liberation (movement) and various activities of the Baloch liberation and RAW handlers go towards activities which are criminal, which are anti-national, which can lead to maiming or killing of people within Pakistan and mostly these activities were centred around of what I have knowledge is of ports of Gwadar, Pasni Jewani and various other installations, which are around the coast damaging various other installations, which are in Balochistan.

"So the activity seems to be revolving and trying to create a criminal sort of mindset within the Baloch liberation which leads to instability within Pakistan. In my pursuit towards achieving the set targets by my handlers in RAW, I was trying to cross over into Pakistan from the Saravan border in Iran on March 3, 2016, and was apprehended by Pakistani authorities while on the Pakistani side and the main aim of this crossing over into Pakistan was to hold (a) meeting with Baloch separatists in Balochistan for carrying out various activities, which they were supposed to undertake and carrying backwards the messages which had to deliver to Indian agencies.

"The main issues regarding this were that they were planning to conduct some operations within the next immediate (near) future so that was to be discussed mainly and that was the main aim of trying to coming into Pakistan.

"So that moment I realised that my intelligence operations have been compromised on my being detained in Pakistan, I revealed that I am an Indian naval officer, and it is on mentioning that I am Indian naval officer, the total perception of the establishment of the Pakistani side changed and they treated me very honourably and they did utmost respect and due regards and have handled me subsequently on a more professional and proper courteous way and they have handled me in a way that befits that of an officer and once I realised that I have been compromised in my process of intelligence operations, I decided to just end the mess I have landed myself in and just wanted to subsequently move on and cooperate with the authorities in removing complications which I have landed myself and my family members into, and whatever I am stating just now, it is the truth and it is not under any duress or pressure. I am doing it totally out of my own desire to mention and come clean out of this entire process which I have gone through last 14 years."
Analysis
The capture of Kulbushan Jadhav has led to information that has resulted in the abductions of numerous other agents and spies in the midst of Karachi sponsoring terrorism and disruption of the overall peace in the city and preparing it for an economical and human disaster.
Pakistan had always remained cautious to such activities and people but they still manage to spread their malice and mayhem evolving eventually into the disruption of peace. With more than dozens of being arrested by FIA for being involved with RAW against anti-state activities, it is clear India is not learning a lesson and is repeating the same mistake.
People like Haji Baloch who are still active in regions of Balochistan and organizations like BLA and BLR who are an immediate threat to the security of Pakistan and sectarian boundaries are still active and sponsored by off-state organizations and countries like India, Kulbushan Jadhav was not the only spy ever caught many before have existed and been in play for a long period of time causing mayhem and the dissimilation of peace and tranquility in the region.
The example of Jadhav serves as a turning point of causes of disruption in the state from political turmoil to state-sponsored terrorism all these factors play a significant role in the overall decaying of the peace of a state and gradual degradation and ecnonomical turmoil.
People like Kulbushan Sudhir Jadhav and Ravindra Kaushik alias Nabi Ahmed Shakir and numerous other enemies of the state are a true example of a chain reaction that is initiated psychologically and results in physical damage to the state and its interests and the overall relations with neighbors and allies.
BUALinks stands for Bain Ul Aqwami Links which means International Relations. BUALinks is an attempt to put forward Pakistan's point of view on its geographical politics.