In recent times, Pakistan was observed returning a loan of 1$ billion to the Saudi authorities raising a mark of the question of the Saudi-Pakistan relations and Kashmir alike, the prompt for this payment of loans were backed by the lack of attention of Saudi Arab on the Kashmir issue.
The 1$ billion was provided by Chinese in another loan that was used to pay off the Saudi debt, Saudi authorities in a past few months have been observed to ignore the Kashmir crisis currently presiding with the failure to call OIC summits and implementing such activities and actions that may be inclined towards Indian favor.
Conditions in Kashmir
Kashmir has been a part of dispute among Pakistan and India since the dawn of both countries, with the Simla agreement stretching a line of control on the Kashmiri border, violations have been constantly observed with some escalating into situations that may lead to a conflict like Pulwama.
It has been a complete year since the Indian Authorities had revoked article 370 which provided the residents of Indian occupied Jammu and Kashmir with a special status to act as a sort of presidency under their own set of rules, was revoked along with article 35A which didn't allow the Indian residents to own land in IOJ&K, with its removal a strict lockdown/curfew was imposed within the boundaries of IO&JK with internet facilities suspended and the Kashmiris left without a voice.
Pakistan has been trying tirelessly to get the countries to voice their support on the Kashmir issue mainly the countries comprising the OIC which have remained silent overtime on this issue which seems to escalating day by day, the recent action from the Pakistani authorities which saw the return of debt from Saudi Arab may be prompted to present a point that Pakistan isn't dependent or maybe to attract the attention of the Saudi authorities because Pakistan is a great ally of Saudi Arab but these deteriorating conditions may suggest otherwise in the near future.
Deteriorating ties with Saudi Arab
Although Saudi Arabia considers Pakistan a great and worthy ally recent events and their incompliance on the issue of Kashmir has led Pakistan to continue on a more persuasive and aggressive path handling the Saudi ties.
China on the other hand has been active in its support of Pakistan with the swift grant of $1 billion dollars of loan to put the Saudi debt to relief.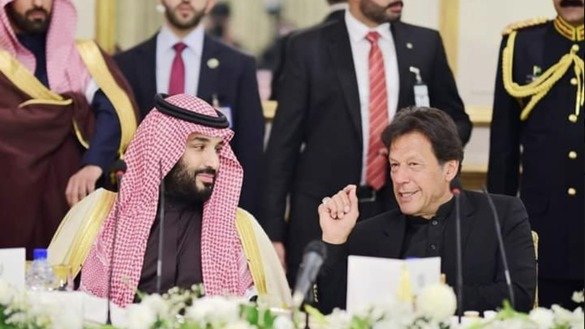 Pakistan has helped Saudi Arab in times of aggravation with both financial and physical support to tackle their problems and as Saudi Arab houses Makkah and Madina, the holy sites for Islam and as Pakistan is based in the name of Islam (Islamic Republic of Pakistan), it is bound to protect the holy places and Saudi government have been observed constantly taking advantage of having the upper hand.
Crown prince Mohammad bin Salman of Saudi Arab had extended a hand of help towards Pakistan in 2019 and early 2020s by granting loans and relief in the oil sector which greatly benefitted Pakistan in its endeavors during the set-up of the new government of Imran Khan, it is unclear what had led to the backing of the Saudi authorities from the interests of Pakistan and especially the Kashmir issue which have been prompted multiple times in front of the Islamic world leaders (the OIC) but has obtained no significant fruit.
The effect on Oil and Chinese grants
With China granting Pakistan with a $1 billion dollar loan, the motive was very clear that China is interested in investing within Pakistan in the CPEC agreement, this move with Saudi Arab had left Pakistan standing in a critical situation if it were to escalate Pakistan would be at risk but chances of that scenario occurring are very minimal since Saudi-Arab has Pakistan in its arsenal as the only nuclear power and as Pakistan has constantly specified that if Saudi Arab was at threat, Pakistan would not tolerate any aggravation against Saudi-Arab.
If the current events were to escalate, Pakistan has Chinese support in terms of importing oil and if sanctions were placed upon Pakistan like Iran, china being the main importer of oil in the world acts as a beacon of hope for Pakistan to purchase from and satisfy its needs.
Recently a re-deal was set in motion with the Chinese authorities on the matter of CPEC in which majority of the stakes in the project were handed over to Pakistan, China does not have a very clean history with countries keeping in the light the situation in Sri Lanka and Taiwan, Pakistan should be at alert to avoid a similar fate.
Saudi's Interest in India
Recently in a tour of India, Crown Prince MBS had announced a $100 billion investment plan for India mainly in conjunction with the reliance group which is the largest group of companies within India chaired by the Ambanis.
A very probable reason for the undermining of the Kashmir issue could be Saudi's joint ventures in the rest of world and with a $100 billion investment in India, they are at risk for helping Pakistan with Kashmir if it meant botching their investment contract, a lot of Indian employees are currently employed in Saudi-Arab and it imports a huge chunk of its oil from Saudi-Arab, approximately 40.33 million tons of oil was imported by India in the fiscal year of 2018-19, and LNG (Liquid Natural Gas) alike.
This endeavor with India is an alarming point for Pakistan as it requires support from Saudi-Arab but along with the risk, Pakistan has also displayed action of sovereignty and diplomatic brilliance with the Chinese support without harming its own interests.
Kashmir has been an underlying issue for India too, but India's approach is far different than that of Pakistan with India aiming to occupy and take the region under its own control and approaching the Kashmir presidency within Pakistani borders for annexation, this is what their actions have depicted since India has released no significant review or statement that may support their claim of generosity and self-dependency for Kashmir.
The Issue With OIC
OIC (Organization Of Islamic Council) is an organization which was made up as a coalition of Islamic countries to tackle problems in different regions whether it may be domestic or international, if two countries cannot reach an understanding it is the duty of the representatives from OIC to solve the matter in the interest of both the countries, now with the issue of Kashmir since India is not a part of OIC it can't handle the matter on its own, it lies with NATO but with the support of OIC for Pakistan, a significant voice can be heard in the UN and may result in a negotiation or a solution may be provided to the problem via diplomatic means.
Saudi Arab is an important part of OIC and one of the most significant members on the table with trade in the entire world and a monopoly over oil, Pakistan seconds it by being a nuclear-capable state, although support from all of the standing members is required to achieve any significant result in the final verdict whether it be via diplomatic means or warfare.
Final Analysis
The prevailing situation is all driven by one main focus point of Kashmir, with Saudi Arab and various other OIC countries failing to voice support for Pakistan in its endeavor for freeing up Kashmir, firm action was imminent and predicted from Pakistan.
Shah Mehmood Qureshi, the foreign minister for Pakistan has been repeating his concerns again and again on international valid forums and platforms as to why the countries in the OIC are not ready to support Pakistan on the issue of Kashmir with visible atrocities being conducted on the other side of the Kashmiri border, the situation remains unclear although one significant reason was revealed with the MBS of Saudi Arabia announcing to invest a 100 billion dollars in India, it may reveal some predicted and anticipated reasons for the ignorance from the Saudi side.
Countries like Malaysia voiced support for Kashmir but were hit with sanctions, greatly affecting their export of palm oil to India, this is a clear monopoly at play and must be tackled to avoid Kashmir attaining the status that of Palestine.