Pakistan & Russia relationship is important perhaps more so in the current global context. The Russian bear is on the rise since the advent of Vladimir Putin's reign. The astute leadership of Putin has made Russia gain relevance in the current power equilibrium. Now, the referendum in Russia has once again put him at the helm of affairs until 2036. Russian public has tremendously backed a referendum on constitutional amendments that included a provision allowing President Vladimir Putin who has already served for some two decades to remain in power until 2036. (Source: National Public Radio NPR). After the counting of ballot papers, the tally for the voting that took place over the whole week showed a 78%, "affirmative" vote; according to Russia's Central Election Commission. The commission estimated the turnout was 65% of eligible voters. This goes to show the level of confidence shown by the Russian public on the leadership and policies of Vladimir Putin.

Russia's constitution had required Putin to step down after the expiry of his current term in office in 2024. The amendments to the constitution had been passed weeks ago by Russia's parliament, however; Putin had insisted that the amendments should be approved by the Russian voters through a referendum to give legitimacy to this whole process.
BACKGROUND OF THE PAK-RUSSIA CURRENT RELATIONSHIP:
Pakistan is undergoing a new phase in its political landscape. Imran khan has been at the helm of affairs since July 2018. The incumbent government in Islamabad is pursuing new avenues in bilateral relations with regional and global powers. There are no perpetual enemies or friends in the geopolitical context. The constantly changing global politics call for new alignments among previously considered rivals as well. National interest is the main cornerstone of bilateral relations that calls for pragmatic approach rather than drastic methods. The deterioration in Pakistan-US relations has also called for Islamabad to look beyond its old allies to forge new relationships based on mutual interests. The present renaissance of sorts in Pakistan-Russia relationship validates this principle. Russia has already strong relationship with China and India and the addition of Pakistan into this equation holds value for her in terms of further consolidating its influence on South Asia.
As the world is moving towards multipolarity, Pakistan has the potential to become a strong pivot especially in the context of CPEC and the addition of Russia into this geopolitical mix.
Russian diplomatic interest in Pakistan have increased manifold under the leadership of Vladimir Putin as the regime considers Pakistan as a very important country in so far as the stability in Afghanistan is concerned. Also, the strategic location of Pakistan cannot be underestimated as it lies at the confluence of South Asia, Central Asia and Middle East. Pakistan is considered important player in Russian foreign policy of late. It is quite evident by the fact that there is a constant level of engagement among the different ministries and militaries of the two countries off late. Russia is particularly focusing on the SCO (Shanghai Cooperation Organization) and the effort to make Pakistan a full-fledged member instead of observer status. The views of both the states regarding a stable Afghanistan coincide with each other. Both the governments and security intelligentsia are working towards a common goal of mediating the Afghan peace process among different stakeholders in an amicable manner.
OVERTURES BY PM IMRAN KHAN
In a recent interview to Russian news agency Sputnik, Prime Minister Imran Khan has said that his government had been mulling to purchase arms from Moscow, given the fact that the cold war was long over. Islamabad and Moscow have taken multiple steps to strengthen the bilateral relations lately. They have recently enhanced their military cooperation and business ties. Defense is the main field of Pak-Russia ties. The two sides have agreed to multiply the cooperation.
Russia is willing to take the relationship to a new level and forget the bitter past dating back to the cold war era. PM Imran Khan and Russian President Vladimir Putin had met on June 14, 2019 in Bishkek on the sidelines of 19th Shanghai Cooperation Organization (SCO), a political, economic, and security alliance established in 2001. The meeting is now being considered a major diplomatic success for Pakistan. PM Khan during the meeting also extended an invitation to the Russian President to visit Pakistan. TV footage also showed Prime Minister Imran standing next to the Russian President. Both the leaders were seen exchanging smiles and engaging in brief conversation while posing for cameras.
Later, when they sat for lunch, the photos showed both the leaders having a lively discussion. As Imran Khan visited Bishkek to attend the summit, reports also appeared that he was going to discuss an arms deal with President Putin during their meeting. Pakistan has shown interest to sign a deal to purchase military hardware worth billions of dollars from Russia. According to reports, the deal is expected to amount 9 billion dollars under which Islamabad would purchase heavy and medium fighter jets, medium and short-range air defense systems, tanks, combat helicopters, and warships. For years, China has remained the major arms supplier to Pakistan, especially after the latter decided to reduce its reliance on the US.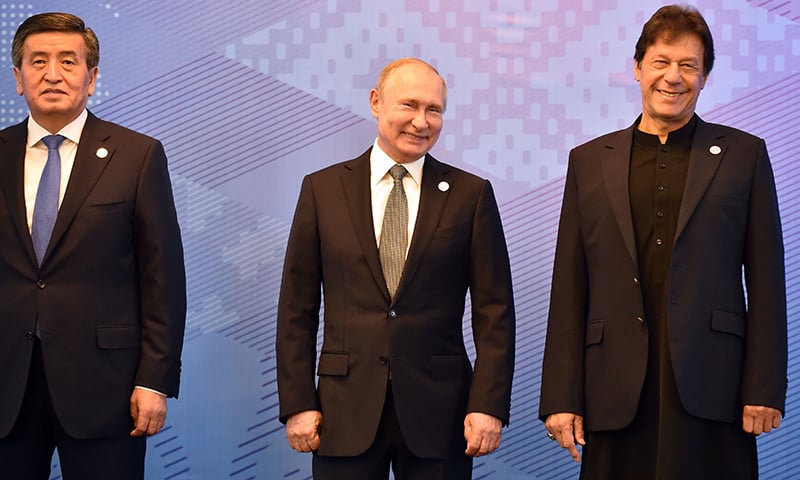 PM Imran & President Putin at SCO
During the onset of the recent tensions between New Delhi and Islamabad, Pakistan is mulling to purchase the Pantsir surface-to-air missile system and T-90 tanks from Russia. If this is true, then this deal would be Russia's biggest ever deal in its arms trade with Pakistan and would have the potential to shift the balance of Moscow's relations with the two South Asian neighbors and also the rivals. The Soviet Union, and later the Russian Federation, kept a strict policy of not selling weapons to Pakistan, while remaining India's close political partner and selling huge military hardware to New Delhi. This, however, began to change in 2014; when Moscow and Islamabad signed an agreement to collaborate in the area of defense. Navies of the two countries recently participated in joint anti-drug exercises in the Arabian Sea and a Pakistani warship participated in the major Russian Navy Day parade recently.
Moscow has huge stakes in Afghan peace. Recently, Pakistan and Russia had vowed to work together for peace in Afghanistan and support each other's regional initiatives. During a recent meeting between Foreign Minister Shah Mehmood Qureshi and Russian envoy on Afghanistan Ambassador Zamir Kabulov, the two countries agreed to continue regular consultations on the Afghan peace process and support regional initiatives.
In December, Pakistan had launched a campaign to win over the key neighbours on the Afghanistan issue and regional peace. Last November, Russia had hosted talks on peace and Afghanistan Taliban which among Afghan leaders were also participated China, Iran and Pakistan. There were no significant developments during the Moscow meeting, which was attended by representatives of 11 countries but delegates widely acknowledged that the meeting in itself was a feat.
CRITICAL ANALYSIS
The brief and pleasant interactions of Pakistan's PM Imran Khan with Russian President Vladimir Putin should be not be construed as a means of major breakthrough in so far as Pak-Russia relations are concerned. Today's world calls for policies based on pragmatism and not mere conjectural statements or acts. The days are gone when the relations between nations strongly relied on the interpersonal relationship among the rival leaders and their charisma alone. All factors of National power are put into the equation for cementing of relationships based on mutual benefits. We must be privy of this fact. It is absolutely paramount that Pakistan forges strong economic relationship with Russia. The country needs to extend state level invitation to the Russian premier to foment a strategic country level cooperation.
CONCLUSION
Pakistan is looking for as well cementing strategic ties with the powerful countries to increase its tactical leverage vis-à-vis USA. Due to rapidly changing global power politics, uni-polarity is no more viable as well. Too much reliance on one powerful ally can be detrimental to national interests as well. Thus, Russia has become a viable option for Pakistan in the regional as well as the global context of politics. Vladimir Putin and Pakistan's premier Imran Khan had a brief but positive meeting on the SCO forum. Now, there is a need for Pakistan to constantly engage with the Russian leadership as there is much to gain for Pakistan if we play our cards well. The CPEC and the Afghan peace process present a perfect opportunity as well to engage the Russians in the development process as Pakistan has much to gain from this relationship.
BUALinks stands for Bain Ul Aqwami Links which means International Relations. BUALinks is an attempt to put forward Pakistan's point of view on its geographical politics.